These days, it's not uncommon for many artists to record at home. It's perfect for quickly laying down ideas and cuts down costs for studio time usually spent at a professional recording studio. While recording at home, you still want work with quality equipment without breaking the bank.
Today, we want to help you choose the best microphone with a budget of $700.
1. Rode Nt 2A Condenser Microphone – $399

This microphone is probably one of the best buys at this price. I personally have been using this microphone for years at my studio & it still sounds great!
Here are some of the features:
– Low noise
– Wide frequency range of 20hz – 20 000 Hz
– Internal capsule shock mounting
– 3-position variable polar pattern: Omni, Cardioid and Figure 8
– 3-position variable high-pass filter: Flat, 80 Hz or 40 Hz
– 3-position variable pad: 0 dB,-5 dB or -10 dBClick Here
---
2. Audio Technica AT4033CL Condenser Microphone – $399

Great microphone for home recordings. Includes a shock mount, which provides stability and just enough flexibility to ward off vibrations or any other physical interferences during your session.
Here are some of the features:
– Cardioid polar pattern
– Large diaphragm condenser microphone
– Maximum SPL of 145 dB
-10 dB pad switch
-Low cut filter at 80 Hz
– XLR outputClick Here
---
3. Neuman TLM 102 Studio Microphone – $399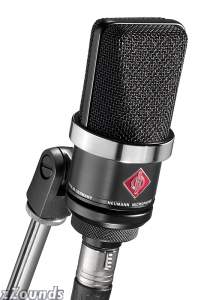 The Neuman TLM 102 is a popular microphone found in most studios. This microphone is great on vocals, as well as recording drums.
Here are some of the features:
– Large-diaphragm cardioid capsule
– High max SPL of 144 dB great for capturing loud sound sources
– Slight presence boost above 6 kHz helps vocals come through in a mix
– Smaller-scale Neumann design
– Transformerless circuitry
– Ideal for home recording, broadcasting, and project studio applicationsClick Here
---
4. Audio Technica AT2020 Studio Microphone – $99

The Audio Technica AT2020 is another great microphone for recording vocals at your home studio.
Here are some of the features:
– Unbeatable price/performance ratio for a studio condenser
– Sturdy build quality reminiscent of much more expensive models
– Unique low-mass diaphragm reproduces fast transients faithfully
– High SPL handling: record loud sources, even without a pad
– Excellent off-axis rejection — ideal for home studios with computer noise
– Included stand mount for easy placement
– Excellent "first condenser" and introduction to Audio-Technica quality Click Here
---
Always check out the reviews before making purchases.
Watching demo videos and researching any vocal records that other artists have used with these microphones always help. It's all about preference and what works best for you.
If you found this information valuable, please be sure to like, share & comment =).
Need more studio equipment?
Click here